Metal Roofing Misconceptions: PVDF vs. Kynar®, Warranties, and More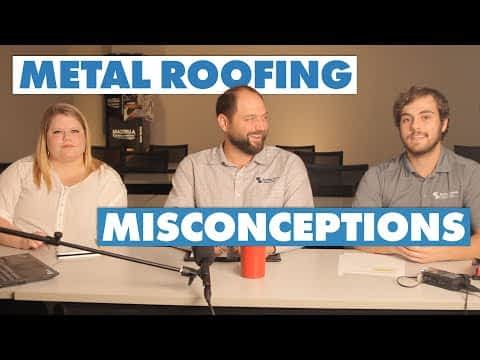 Watch today's episode to learn about common misconceptions in the metal roofing industry.
Comment below to have your question answered on Q&A Mondays!
**********************************
Today on Q&A Mondays, Adam and Jeff join Julianne and Thad to shed some light on common misconceptions and misnomers in the metal roofing industry: Trade names, paint warranties, hail rated vs. hail proof, and more.
Topics covered:
►Why is PVDF sometimes referred to as Kynar®? 0:45
►Are all paint system warranties the same? 1:48
►Is Galvalume® a one of a kind product? 4:28
►Is engineering a necessity? 8:39
►Does having a hail rated roof mean it is hail proof? 10:30
Watch the Chalking and Fading Q&A episode with Rob Haddock from S-5!: http://bit.ly/chalking-and-fading-video
Read our metal roofing standards and testing blog article written by Julianne: http://bit.ly/metal-roofing-standards-and-specifications
Have questions about metal roofing or the metal construction industry? Comment below to have them answered on camera by industry experts in future episodes of Q&A Mondays!
**********************************
FOLLOW THE SHEFFIELD METALS TEAM
►https://www.linkedin.com/company/sheffield-metals-international/
►https://www.facebook.com/sheffieldmetals/
Visit Our Website: https://hubs.ly/H0bFCn60
Subscribe To Our Blog: https://hubs.ly/H0bFYvX0