The Metal Roofing Channel 2018 Year In Review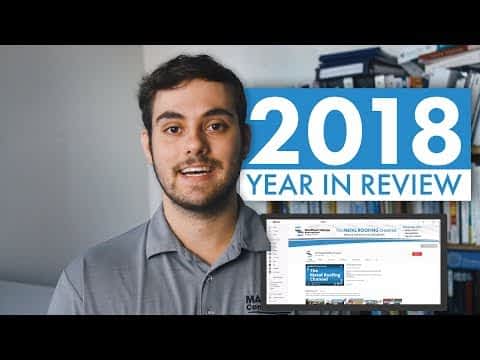 Watch this video to look back at the best videos from 2018, and look ahead to new material coming in 2019. Thanks to all our viewers and subscribers for making this year a blast!
**********************************
Today is the last episode release on The Metal Roofing Channel in 2018. Thank you to all our subscribers who helped make the channel's inaugural year a success! In today's video, we're going to take a look back at some episodes you might've missed in 2018, and we'll look ahead to 2019 and preview some new content coming your way. As always, we want to hear your video ideas so we can continue to help the industry learn and grow. Have a great holiday season, we'll be back in January!
Here are some of the most popular videos of 2018:
►7 Common Problems Of A Metal Roof: http://bit.ly/7-Common-Problems
►Metal Roofing Vs. Shingle Roofing: http://bit.ly/Metal-Vs-Shingle
►Can You Put A Metal Roof Over A Shingle Roof?: http://bit.ly/Metal-Over-Shingle
►Exposed Fastener Vs. Standing Seam: http://bit.ly/Exposed-Fastener-Vs-SS
►Metal Roof Weather Testing (Wind Uplift And Water Penetration): http://bit.ly/Metal-Roof-Weather-Testing
Have questions about metal roofing or the metal construction industry that you want answered in 2019? Comment below to have them answered on camera by industry experts in future episodes of Q&A Mondays!
**********************************
FOLLOW THE SHEFFIELD METALS TEAM
►https://www.linkedin.com/company/sheffield-metals-international/
►https://www.facebook.com/sheffieldmetals/
Visit Our Website: https://hubs.ly/H0bFCn60
Subscribe To Our Blog: https://hubs.ly/H0bFYvX0